OUR ENGAGEMENT SINCE LOCKDOWN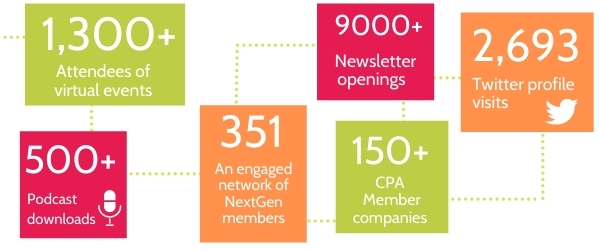 Collaboration and innovation have been more important than ever this year and the CPA has played an important role helping to shape the City's response to the pandemic, working closely with its political leaders and policy makers, particularly on the City Streets Recovery. The City has embraced change and is investing heavily in its future, with a £1billion proposed investment in its Major Transformation Projects, including a new police and courts complex as part of a wider regeneration of Fleet Street, the relocation of the Museum of London to Smithfield Market and a new Centre for Music as part of its commitment to Culture Mile.
Confidence in the City has also been reflected in the property sector's continued investment, with a raft of innovative new buildings in the pipeline and high profile tenants signing up space. The past year has brought its challenges for all commercial centres, and prompted larger questions about the purpose and use of our cities, offices and shared spaces. But we are confident Central London has a positive future.  The City has accelerated its ambitious programme to improve the public realm, with long lasting changes which will benefit the area as we move to recovery. The CPA will continue to help shape and support this transformation, alongside the existing and new business partnerships including Cheapside BID, EC Partnership, Fleet Street Business Partnership and Aldgate Partnership, which are well placed to further define their unique districts and tailor intervention to support the City's ongoing transformation for a post-Covid world.
Key to that transformation is the City's global appeal to talent, driven by its young and diverse workers who make up 61% of the City's workforce. The CPA pioneered the OneCity digital platform, delivered in partnership with New London Architecture and the City of London Corporation, to better target this key audience and promote the City's increasingly vibrant leisure and cultural offer. During lockdown OneCity's Instagram following has surpassed 50,000 and continues to grow. Earlier this month we published research on the impacts of the One City digital platform, recognising digital tools present great opportunities for the promotion and recovery of the City.
Sadly, we have not been able to hold our usual physical events but we are hopeful of staging our CPA Annual Lunch in June 2021. Members will be notified of the new date once we are able to confirm it next year. In the meantime, our digital programme has been popular with members, with more than 1419 unique views and listens of our various webinars and podcasts since March 2020. Our NextGen committee has also developed a strong virtual programme for the 351 NextGen members who receive dedicated NextGen communications. This curated forum of blogposts and podcasts benefits younger staff who are more likely to struggle with career development and the absence of networking during lockdown.
From the onset of the pandemic we have engaged with local and national government to help rebuild Central London and, through the combined strength of the London Property Alliance, campaigned on behalf of our members. You can see some of our lobbying here. We have contributed to the City Corporation's latest report, London Recharged: Our Vision for London in 2025, which sets out its ambitions for the future including a 5% total tenancy increase, with 20% of office tenants to be businesses new to the city, and a 50% increase in weekend and evening visitors over the next five years. The CPA has also sponsored other important initiatives and organisations, including Open House London and Centre for London.
Despite the additional scale and scope of our work during the year, and our low annual fees which range from just £1,000 to £1,750 depending on company size, we will be offering all members a 10% discount on membership renewals in 2021. Those companies which are also members of both CPA and WPA will receive an additional 10% discount. We will be issuing membership renewals in the coming weeks reflecting these reduced fees.
Thank you for your continued support and engagement with our work at CPA. We are proud to represent you and to offer opportunities for shaping the City's built environment as we recover from Covid-19 and look towards the future.
Dan Scanlon, CPA Chair
Charles Begley, Executive Director CPA & WPA (London Property Alliance)